We'd had some issues with our brakes for a while, but they were starting to get really spongy as we were driving through the Kimberley.  Then, on our way to the Bungle Bungles, an NQR noise started coming from the front wheel.  Dave got out and had a look but it just looked like the tyre needed to be adjusted.  It wasn't until he got the tyre off that he could see that the brake disc was all wonky.
It was early in the morning and people were heading into the Bungle Bungles.  A few cars stopped to ask if they could help but once they established that they couldn't they moved on.  Then, some familiar faces turned up!  Paddy and his crew, who we met at Adcock Gorge, stopped and advised us that our wheel bearings were buggered.  He happened to have a spare set, lent us some tools and provided instructions on how to replace them before wishing us luck.
As we were replacing the bearings, another guy showed up.  He was a mechanic and noticed that our stub axel had split. He dished out the bad news that we're definitely not going anywhere until we got it replaced.  The lock nuts were also stuffed…
We sat around for a bit after that, wondering what to do, until Juz suggested that Dave set forth to find the part while she held the fort.  Just as Dave agreed, a DEC vehicle turned up and that's when we met Greg.  He offered to take Dave out to the highway and we accepted.  As Juz made Dave a substantial snack of rice, chicken and soy sauce, we agreed to send word whenever we could, and at 10am Dave set off with some cash and 2 litres of water.
Dave's Story
I jumped in the car with Greg and as we made our way along the corrugated dirt road towards the highway, we chatted about travelling, camping and cool places to check out around Australia.
About 10kms before we hit the highway, Greg said, "Hmmm, my steering just got really heavy".
We jumped out and found power-steering fluid dripping everywhere.  We couldn't find the source of the leak, so Greg said we may as well just keep moving and the new car warranty could deal with it when he got to Kununurra.  I figured that I must be some kind of jinx, and hoped that any other cars I hitched a ride in didn't break too!
We stopped in at the caravan park just before the highway to get some information.  I called the Turkey Creek Roadhouse and they said my best bet would be to find the mechanic called "Chook" in Warmun.  Greg offered to take me there and as we were pulling out of the caravan park, I saw some people letting their tyres down in preparation for the road into Purnululu NP.  I asked them if they could tell the girl in the broken down Troopy that I was heading to Warmun to find Chook.
Once we got to the Turkey Creek Roadhouse, I asked the staff where I could find Chook.  A helpful lady from the Warmun aboriginal community pointed me in the right direction and Greg gave me a lift down the road to Warmun.  For the first time in my life, I was inside a closed aboriginal community – it was definitely a strange feeling and I wasn't sure if my being there was going to upset people or, even worse, make them angry.  I walked into the shop and saw a fairly even mix of Aboriginal and non-Aboriginal folks, which made me feel like I stood out a little less.  I asked where I could find Chook.  The lady behind the counter motioned toward the ute coming towards the shop and said, "That's Chook coming now".
I made eye contact with the driver, who took one look at me then growled, "I DON'T 'AVE ANY!!"
It's fair to say that I all but shit myself.
Chook stepped out of his ute and I sized up the man who would probably determine whether we get the Troopy going or not.  Well over six feet tall and well built, he wore a bandanna, dark sunnies, long white Santa Claus beard, and had four mean-looking dogs at his heels.  Before addressing me, he took a few moments to remind his dogs to behave, or risk the chance of a flogging.  The mean-looking dogs all but shit themselves.
It's fair to say that I all but shit myself again.
When he asked me what I needed, I managed to squeak out the words "Stub axle".  He growled something along the lines of "I 'spose you need someone to come out and fit it too?".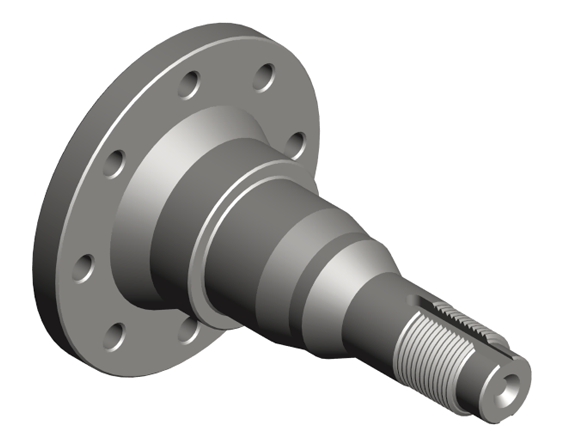 I quickly assured him that all I needed was the part and that I didn't want to take up too much of time.  "Hmmm, stub axle? I might 'ave one. Meet me at the roadhouse in an hour."

His emphasis on the word 'might' suggested he did have one, providing I was willing to part with the necessary funds.  This was about to get expensive.
On the walk back to the roadhouse, I finally breathed out and started to relax a bit.  In less than an hour, Chook rocked up and presented the stub axle complete with lock nuts.  I asked him how much it was worth and I prepared to shit myself.

"$100" he says.
As a wave of relief flowed over me. "Geez, that's alright!"
"Oh, in that case, maybe it's $150…"
I laughed nervously and quickly handed him $100 cash.
He asked me if I knew how to install the stub axle and repack wheel bearings.  I told him I'd never done it before, but I had the service manual to follow.  He spent the next 20 minutes explaining everything I needed to know.  We ended up chatting about university, apprenticeships, food, his kids, life in the sticks and more.  Chook is by far the most interesting character I've met so far while we've been on the road.
It was well after 1pm now and I had to find a ride for the 75km trip back to the Troopy.  More importantly, I had to eat something.  I grabbed a steak sanga with bacon, egg and cheese from the roadhouse.  The steak was freshly cooked to juicy perfection, the bread was soft and gummy and bacon always makes everything even better.  Even Juz wouldn't have had time to take a photo of it because I inhaled it in about two minutes!
Next, I needed to work on the issue of how to get back to Juz and the Troopy.  If I didn't find a ride, where was I going to sleep?  All I had was a water bottle and a stub axle – neither of which are particularly good blankets.  And would Juz be ok by herself in the middle of nowhere?
I figured my best bet for a ride would be travellers in a campervan.  I didn't have to wait long.
"Excuse me, my car's broken down.  If you're going south, would you be able to give me a ride?"
My new best mate, Boris from France said, "Of course! This is no worries!"
After being introduced to Constance (Boris's girlfriend from Germany), I jumped in the back of their van and we set off.  We chatted and shared travel stories all the way down the highway, and once we got to the turn off for the Bungle Bungles, I told them they could just leave me there and I would find another ride for the rest of the way.
"But we are going to the Bungle Bungles…"  RIDE SORTED!!
We were about to continue our journey when a 4WD pulled up behind us.  The people jumped out and came up to us smiling and waving.  Turns out it was a German couple that we'd met near Wyndham a few days earlier.
"Dave!  We just passed you guys on the highway and when saw your beard, we knew it was you!  We've just come out of the Bungle Bungles and we saw Juz and the Troopy.  We were coming to pick you up from Warmun!"
I thanked them for being offering to travel 150km out of their way to collect me but told them that Boris and Constance were going to take me the rest of the way.
We started the slow, bumpy, noisy drive along the dirt road towards Juz and the Troopy.  We were about 15 minutes away when a tattooed bloke with a long, grey goatee in a Hilux coming the other way got us to pull over.
"Are you Dave?" said Will (my other new best mate), "I've just seen Juz.  Your stub axle's definitely stuffed.  Did you manage to get one?"
I told him I did and he asked if I wanted a hand fitting it.  I said I'd love a hand if he wasn't doing anything.  He turned around and followed us back.  We got back to Juz and the Troopy a bit after 3pm.  When I jumped out of the van, Juz's face lit up and she came running over to smother me with hugs and kisses.
Juz's Story
Nowhere near as action packed as Dave's day…
I had maintained my cool during the breakdown – from when we heard the noise to when the mechanic guy said that we were stuffed.  I even kept my cool while telling Dave to leave me to get the part, and that I may have to camp out there, in the middle of nowhere, on my own.  The only time I lost my cool was when Dave kissed me goodbye, got into Greg's car and disappeared in a cloud of dust over the hill.
Once he was gone, it sunk in – I may be by myself for a while.  I shifted into stealth mode and started preparing for the day.  I put the windscreen sun visor up, covered the windows to keep the Troopy cool, and put the tool box and gear under the shade of the Troopy.  I then positioned weapons around the Troopy – just in case – a metal pole here, a Bowie knife there, my Leatherman pocketknife close by (as always).  When I was satisfied, I created a small patch of shade with my sarong over the back doors and sat down to read.
There was no opportunity to get lonely because the traffic to and from the Bungle Bungles was frequent.  Many people smiled, waved and drove by without stopping, but most would stop, either out of curiosity or concern.  There was only one couple that stopped and said, "Your friend told us to tell you that he was heading to Warmun".  If someone gave me a good vibe, I would stand up and talk to them, ask them which direction they were heading and if they would pass a message on for me to a hairy, bearded Italian guy in a shirt and leather hat in Warmun; mainly that I'm ok and I haven't been torn apart by a swarm of bees… yet.
Boredom was a little harder to keep away.  After reading for an hour or two, I started to get hungry.  I made myself some cheese and salmon on rice cakes and chased it with a pear.  Satisfied, I sat down again with the guitar and smashed out two songs in as many hours.  One is called Find A Way and it's about hoping that Dave comes back safely with the part so we can get the Troopy fixed.  The other is called Plight, and it's a conversational song with a series of verses made up of all the things I repeated to all the people who stopped to ask if I was alright.
Later in the day, a German couple that we met a few nights earlier passed by and after I told them what was happening, they offered to go to Warmun, find Dave and bring him back.  I was so grateful; it had been a few hours since Dave had left and I was worried about spending the night alone.  Not long afterwards, a tattooed bloke with a long, grey goatee pulled up in his 4WD ute to find out what was going on.  My initial apprehension was based purely on looks, but all he wanted to do was suss out the damage and make sure Dave was getting the right part.  After a brief chat, I found out he was from the same neck of the woods as Dave and I – the northern suburbs of Melbourne! So I gave Will a description of Dave and he went off to find him.
At about 3pm, Paddy and his crew had returned from the Bungle Bungles and I was still on my own.  Paddy started preparing the hub by fitting a new seal while the girls gave me some glossy trash mags to keep me entertained until Dave got back.  It wasn't long before a blue van rocked up with two backpackers and Dave, followed by Will in the 4WD ute.  It was happy faces all round, and I don't think I've been happier to see Dave.
Reunited…
It must have looked like a roadside party.  Surrounding the Troopy was Paddy's lot with their two 4WDs, the European couple in their van and Will in his Hilux .  After a few minutes of celebration, Paddy told Dave and Will what he'd done with the seal and bearings and wished us luck before setting off for camp with his crew.  Juz and the Europeans looked on as Dave and Will worked double time to get the stub axle fitted and just before sunset, they too wished us luck and headed for camp in the Bungle Bungles.
There was barely any light left by the time the job was done.  The three of us worked together to make sure all the parts were put back in the right order, and found out that there was another piece of the puzzle that was stuffed – a bit from inside the free-wheeling hub – but we could go on without it until we got to a mechanic in Kununurra.
We got it all sorted just after the sun disappeared over the horizon and darkness set in.  We thanked Will profusely as he got cleaned up then headed off to his camp.  Dave and Juz packed up all the tools, got cleaned up, climbed in to the back of the Troopy and passed out by 7pm.
Thank You
To all the people who stopped to see if we were alright, and offer help, a ride, advice, food, water, tools and parts – thank you so much for your time and concern.  It's you folks that make up the heart and soul of the bush – the true, naked Australia.