We have come across a bit of confusion when ordering beers in pubs.  Our Victorianness first became apparent in South Australia when we were ordering beers during our Mount Gambier pub crawl.
"I'll have a pint of West End thanks!"
The bar wench will start to pour the beer into a 450ml glass.
"Sorry – I asked for a pint."
"This is a pint."
"No, it's a schooner…"
"No, it's a pint…"
We felt like we were getting jibbed getting 450ml of beer instead of 570ml like we would in Victoria.  The confusion continued as we travelled through South Australia to Western Australia and found out that pots were called middies.  It was like we were speaking a different language!
We took it upon ourselves to find out all the different names for beer sizes so that when we cross the border into the Northern Territory and beyond, we wouldn't make it obvious that we weren't local.
Sizes by Volume
The most popular beer sizes in Australia include…
A jug, which is generally 1140ml or 40 fluid ounces and is designed for sharing with your mates.
A pint is generally a 570ml (20 oz) glass but in South Australia, it is called an Imperial Pint because they call the 450ml glass a Pint (weirdos).
A schooner is a 450ml (15 oz) glass, except in South Australia where it is called a Pint.  Schooners are usually served in New South Wales but also exist in Victorian or Western Australian pubs too.
A pot is served in a 285ml (10 oz) glass, but it has a variety of other names such as Half Pint, Middy, Handle or Ten.  This is a popular option if you are after a quick drink.
The smaller varieties like the 200ml (7 oz) and 140ml (5 oz) servings are less common.  We've seen them on the road when we buy a tasting paddle at a brewery and that's about it.  The number of standard drinks for each beer size depends on the strength of the beer.
Sizes by State
Here is a quick rundown by state of what beer sizes are called.
Victoria
Horse or Pony 140ml
Small glass 170ml
Glass 200ml
Pot 285ml
Schooner 425ml
Pint 570ml
South Australia
Pony 140ml
Butcher 200ml
Schooner 285ml
Pint  425ml
Imperial Pint 570ml
Western Australia
Shetland 115ml
Pony 140ml
Bobbie or Six (fl oz) 170ml
Glass 200ml
Middy or Half Pint 285ml
Schooner 425ml
Pint 570ml
Northern Territory
Seven 200ml
Handle 285ml
Schooner 425ml
Pint 570ml
Queensland
Pony 140ml
Seven (fl oz) 200ml
Pot 285ml
Schooner 425ml
Pint 570ml
New South Wales / Canberra
Pony 140ml
Seven (fl oz) 200ml
Middy or Half Pint 285ml
Schmiddy 350ml
Schooner 425ml
Pint 570ml
Tasmania
Small beer 115ml
Six (fl oz) 170ml
Seven (fl oz) 200ml
Seven (fl oz) or a Pot 285ml
Fifteen (fl oz) or a schooner 425ml
Pint 570ml
Beer Glasses by Type
Let's not forget that there is a special glass for the type of beer that you're drinking.  Don't ask questions, just smile and nod your head.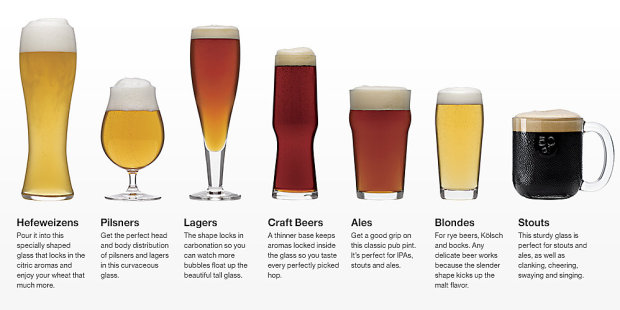 So there you have it – no excuses now!  If we've forgotten any sizes or if you've heard any other names for beer sizes around Australia, we'd love to hear it.  Chuck us a message via facebook or twitter!